Teaching Science is interesting and has a major impact on almost all of our daily actions. The way we walk and talk, what we see around us, what we hear, are all implications of science in one way or the other. Teaching Science to kids can be easy yet challenging for science encompasses lots and lots of topics and categories.
As children grow, they take much interest in the surrounding around themselves. So do they in the work activities their elders are doing. They want to imitate them and try to learn more about those activities. There are many ways you can teach scientific rules and the ways of nature to your kids at home.
Teaching science ideas can come out from the changing weather conditions or moving automobiles. Teaching science In the kitchen, mixing and blending the items together (dissolving/solutions/mixtures), watching a cake rise in the oven, burning excess water (evaporation/steam) are just very few activities to teach scientific concepts to kids. Similarly, for teaching science out in the garden, I can think of many many activities that can be performed by kids alone or with the help of a guardian like, planting a new seed, watering a plant, observing plant growth and the different species of tiny and not so tiny organisms and insects that dwell there.
The best thing about such activities is that they create a natural environment for the children to learn and think. Instead of the usual classroom environment where they just read about the concept from a book and learn about the process, this natural environment actually provides an attempt to practical learning and boosts self confidence in them. They learn more, their curiosity level rises and many questions arise in their minds about the process in concern.
I will illustrate this with a simple example. If children are made to take outside in their garden and plant a seed in a pot, what will happen?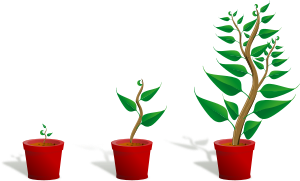 They will want to know exactly the biological process that is involved in the sprouting of the seed and the growth of the plant. They will also want to see if their plant is kept at the right place such that it gets maximum sunlight and air. They will want to know what plants do to survive. They will want to keep a check of the growth of their plant, how much weeks it has taken to grow to a certain length. In short, they will want to know all about plantations. Curious minds will also ask you questions related to growth of different types of fruit and flowering plants and other such details.
In short, teaching science to your kids at home can be really easy, believe me. You should always be alert and looking out for ideas all the time. Young minds are sharp minds. Whatever knowledge they attain at this young age, they will retain it for always!
Let me know your opinion about this post. Also, like and follow my blog to remain updated for I plan to extend this site as a resource of worksheets and lesson plan ideas for children of all ages.
Please follow and like us: